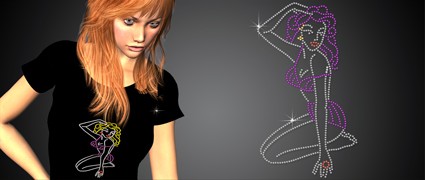 Design Templates for Apparel Decoration
Our online service for the Textile Industry
Create decorative appliqué on t-shirts, jackets, pants, blouses, etc, with our world class design templates - well suited for producing stencils with your vinyl cutter.



Rhinestone Designs
Simply select the appropriate graphics from various topics, such as alphabets, animals, marriage, dance, cheer, flowers, holidays, mascots, biker, religious, name drops, horses and western, sports, symbols and tattoo.
From the composite with circles designs, you can produce hotfix rhinestone transfer templates with your vinyl-cutter. All Graphics are saved in EPS format and can be used with all common graphic-, signmaking- and rhinestone software.



Rhinestone Fonts
Create your own text and names. The True Type fonts for Windows and MacOS are compatible with all graphics-, signmaking- and illustration-software.



Apparel Templates
Additionally, you get clothing templates. Their purpose is a quick way to make meaningful designs and marketing materials. Jackets, pants, blouses, shirts, etc. are available and can be modified as you want.
With our service you will get new images every week for the production of unique designs at an affordable flat rate.
Key Features
Hundreds of decorative designs
EPS vector format
True Type rhinestone fonts
Apparel templates
Every week new images, alphabets and fonts
Rhinestone-Design Online Service
1 year unlimited downloads
Promotional price: $ 79.00
valid until end of JAN 2013, regular price: $ 99.00