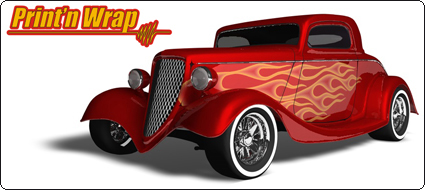 Print'n Wrap Graphics is a beautiful print / cut solution for superior vehicle graphics. Designed for todays demanding needs in progressive, flexible vehicle graphics, Print'n Wrap goes the extra mile.
Now you can wrap with the best looking, best printing, most edgy graphics ever.
All designs come with a TIF-file for large format printing and an outline-file for exact matching and cutting.
Try 720dpi resolution. Transparent .tiff in all colors including transparent 3D and transparent shadow.
So go ahead, float these transparent .tiff graphics over your wrap project and get it Goin' on just like the pro's do it.
That's right, you can open these files diectly in e.g. Photoshop, scale and output. It's really that easy.
Get it goin' on with Print'n wrap graphics.
printable catalogues ( Adobe Reader required )
For an easier selection print our catalogues and provide it also to your customers.

Ghostflames

Print & Cut