Car'n Truck Download Service
Tired about changing DVDs and CDs? Get unlimited downloads from all our online product areas. Keep being up-to-date and have all our graphics at your disposal, anywhere and any time.
Our Download Service offers all templates and graphics from all our Download areas, including:

Vehicle Templates
Detailed 2D templates and 3D models, perfect for vehicle lettering and wraps.

Vehicle Decoration
Thousands of vinyl-ready vector graphics for vehicle decals like Flames, Tribals, Race images and many more.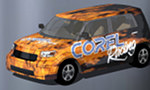 Print & Wrap Graphics
Printable high resolution graphics and backgrounds.

Vector Graphics
Modern cutable, printable graphics for signs, t-shirts, stickers, banners etc.
---
1 Year Download Service
Our flatrate - 1 year unlimited Downloads.
Promotional price: $ 99.00
Add to cart
---
Lifetime Download Service
More value? How's about using our Download Service for your creative work forever?
Promotional price: $ 399.00
Add to cart
---
Car'n Truck 1 Year Downloads + DVD 2013 add-on
All of our vehicle templates from model year 2008 to 2013, saved on one DVD.
Also, obtain updates as well as templates from previous model years from our Download service for 1 year.
Promotional price: $ 149.00
Add to cart
---
Single Templates
Just looking for one particular vehicle outline? Search for it within our Download Area, then click the order link to purchase the corresponding Illustrator AI file.
Promotional price: $ 19.00
Search now